Municipal Job Openings
The Town of Belmont is an Equal Opportunity Employer

To apply for any positions listed below, print, complete and mail or deliver the employment application form.
---
PLANNING & ZONING ADMINISTRATOR
BELMONT, NH

The Town of Belmont (population 7500), centrally located in the Lakes Region of New Hampshire, is seeking qualified candidates for the position of Planning & Zoning Coordinator. Working under the direction of the Planning Board, the Planner provides management, leadership, and coordination to the planning, engineering, zoning, code enforcement, and economic development activities of the Town. Must possess a service orientated attitude, and a thorough knowledge of the land use operations and functions of a municipal land use department. Coordinates all aspects of development projects. Requires a Bachelor's degree in Planning or related discipline, Master's degree highly desirable, with a minimum of 5 years related experience, including two years in a municipality. American Planning Association member and American Institute of Certified Planners (AICP) certification desirable. Salary range to $91,000; starting salary commensurate with qualifications, plus excellent benefits. The Town of Belmont is an Equal Opportunity Employer.
For further information potential candidates are directed to the Municipal Resources, Inc. website at www.mrigov.com/career or to contact Municipal Resources, Inc. at 603-279-0352 ext. 330.
To apply submit a resume and cover letter in confidence as a PDF attachment to recruitment@mrigov.com.
Resumes accepted until position is filled with first review on Wednesday, February 22nd, 2023.
Click for the Planning & Zoning Administrator Job Description (PDF)
---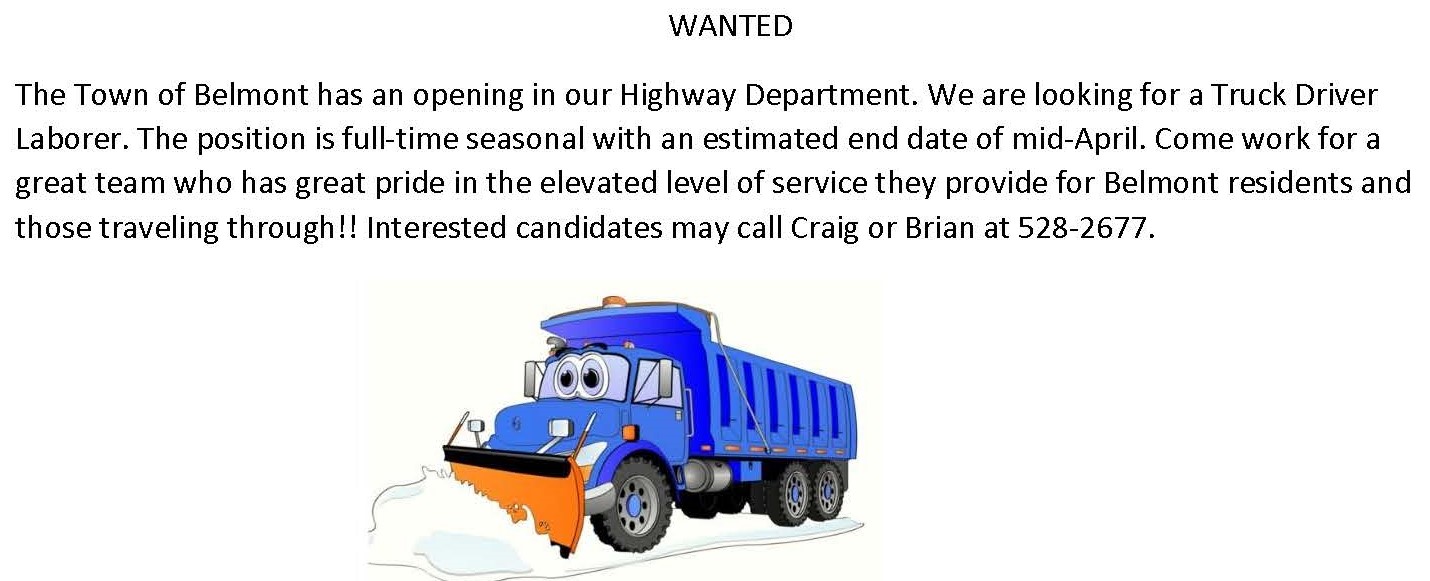 ---
Finance/Human Resources Clerk
The Town of Belmont is seeking a self-motivated, detail-oriented, organized, communicative, and respectful professional to fill the part-time (+/- 32 hours per week) position of Finance/HR Clerk in the finance department. The successful candidate will have a general knowledge and experience of municipal finance and clerical duties.
Duties include accounts payable, payroll, cash receipts, coordination of human resources paperwork, dissemination of information regarding employee benefits, and other administrative tasks as assigned.
The ideal candidate would have municipal experience, public finance administration experience, and proficiency with finance software (BMSI a plus) and Microsoft Office. Associates degree in accounting or related field or at least two years of municipal experience; any combination of education and experience will be considered. Wages commensurate with experience and qualifications.
Complete job description and application is available online at www.belmontnh.gov. E-mail cover letter, resume, and list of references to Katherine Davis, Finance Director, at Finance@belmontnh.gov. The position shall remain open until filled. The Town of Belmont is an EOE.
Click here for Full Notice and Job Description
Belmont Fire Department
Lieutenant/ALS Provider
The Town of Belmont Fire Department is seeking a qualified candidate for an immediate opening for the position of Full Time Lieutenant/ALS Provider (Paramedic Preferred.) This individual will perform responsible shift supervision, firefighting operations, emergency medical care, and other related duties that apply.
MINIMUM QUALIFICATIONS:
▪ High school diploma or GED (Associates Degree Preferred)
▪ Certification as a Firefighter II and Nationally Registered AEMT (Paramedic preferred.)
▪ Possession of or ability to readily obtain a valid driver's license issued by the State of New Hampshire for the type of vehicle or equipment operated (CDL-B with tank endorsement).
▪ Completion of the State of NH Administrative rules, 701.01, 701.02, 702.01, 702.02 or a lateral transfer that meets rule 703.01.
▪ Possession of Pro Board Fire Officer II certification (or ability to obtain within 1 year)
▪ Pass a criminal and driving background check
▪ Pass an NFPA 1582 pre-employment physical
This position will work 42-hour week, on a rotating shift. Schedule consists of a 24-hour shift, followed by 3 days off. Do not attach copies of certifications. A transcript from the NHFA or similar educational institution will be accepted as proof of certifications. This is a Union position. The Town of Belmont is an Equal Opportunity Employer.
Cover letters and resume must be submitted to:
Lieutenant/ALS Provider Hiring Process
Attention: Assistant Chief Deborah Black, PO Box 837 Belmont NH 03220
by 15:00 Wednesday February 8, 2023
Fire Department Lieutenant/ALS Provider Job Posting (PDF)
---
TOWN OF BELMONT
SCHOOL RESOURCE OFFICER
The Belmont Police Department is seeking a certified police officer to join our Support Services Division as a School Resource Officer for the Shaker Regional School District.
Who we are:
We are a progressive modern law enforcement agency that works tirelessly to attract and retain the best people. We are a mission driven team that strives to put our community first. We value a positive work, home-life balance that fosters schedule flexibility where possible.
This position is for an experienced police officer. Investigative experience preferred but we are willing to train the right person.
Who you are:
A Mentoring, caring and patient individual to work with students, parents/guardians and school staff in order to educate, preserve the peace, protect persons, property and enforce state laws and local ordinances.
The School Resource Officer is a Belmont Police Officer assigned to the Shaker Regional School District and is primarily responsible for working within the Town of Belmont School System to enforce the laws while promoting a safe and drug free environment and building positive relationships between students, faculty, families, the community and the police.
Supervision Received
The School Resource Officer works under the general supervision of the Principals of the assigned school but answers directly to the Support Services Commander.
Knowledge, Skills and Abilities:
The ability to talk to and mentor kids
"Next level" job knowledge
Observation skills
Report writing skills
Attention to detail
Ability to "think outside the box"
Courtroom testimony skills
Positive attitude and tenacity
Compensation and Benefits:
Wages are based on an 11-step union negotiated scale, up to $33.27/hr, dependent upon years of service for Full-Time Certified Officers. Eleven (11) paid holidays, Medical, Dental and Life Insurance.
Accrual of annual and sick leave with 80 hours vacation time after 6 months. Participation in the New Hampshire Retirement System Group II.
Job Type: Full-time
Pay: Up to $33.27 per hour
Benefits:
Dental insurance
Employee assistance program
Flexible schedule
Health insurance
Life insurance
Paid time off
Parental leave
Retirement plan
Schedule and work day:
This is a "non-essential" position, Monday through Friday schedule with weekends and holidays off.
Interested candidates should contact Lt. Evan R. Boulanger for more information. 603.267.8351 or eboulanger@belmontnh.gov
---
Town of Belmont
HIGHWAY DEPARTMENT TRUCK DRIVER/LABORER
JOB POSTING
The Town of Belmont is seeking a qualified individual for the position of Highway Department Truck Driver/Laborer reporting to the Public Works Director. The successful candidate will perform a variety of routine skilled and unskilled manual laboring duties. The position requires a NH CDL "B" license with airbrake endorsement. The individual chosen for this position must possess a willingness to work with others including the general public. High School Diploma or equivalent is required; experience with the operation of heavy trucks necessary. Driver's License and Criminal record check required, mandatory participation in the department's Drug/Alcohol Screening Program as required by federal law. This is a full-time position with great benefits and enrollment in the NH Retirement System. Pay based on experience.
Applications and a copy of the complete job description are available at the Belmont Town Hall, send a resume and letter of interest to DPW Director, PO Box 310, Belmont, New Hampshire 03220. The Town of Belmont is an Equal Opportunity Employer.
---