Public Works Department
Address:

PO Box 310
149 Hurricane Road
Belmont, NH 03220-0310

Phone:

603-528-2677

Emergency:
603-520-7582

Fax:

603-528-2682

Hours:

Monday-Thursday
6:30am-4:00pm
Friday, 6:30am-10:30am
---
Staff

Belmont hires Public Works and Finance Directors Daily Sun 06/27/17
---
Additional Links and Bookmarks
---
THANK YOU TO OUR
DPW CREW MEMBERS!
NATIONAL PUBLIC WORKS WEEK 5/21-5/27/2023
This year's national theme is "Connecting the World Through Public Works". This year brings attention to how public works connects us all through infrastructure and service, enhancing the quality of life for our communities served by our DPW professionals. Belmont's DPW Crew provides services for our roads, water, sewer and more!
---
Erecting street-side mail box
Mailbox Requirements
USPS & Town of Belmont
Every new mailbox design should be reviewed and receive the Postmaster General's (PMG) seal of approval before it goes to market. If you opt to construct your own mailbox, it must meet the same standards as manufactured boxes, so show the plans to your local postmaster for approval.
Looking for a larger mailbox? Try a Next Generation Mailbox.
Here are some helpful guidelines to follow when installing your mailbox:
Position your mailbox 46" from the road surface to the bottom of the mailbox or point of mail entry.

Place your mailbox 6" to 8" back from the curb. If you do not have a raised curb, the face of the box should be a minimum of 24" from the edge of the road (Town of Belmont).

Put your house or apartment number on the mailbox.

If your mailbox is on a different street from your house or apartment, put your full street address on the box.

If you are attaching the box to your house, make sure the postal carrier can reach it easily from your sidewalk, steps, or porch.
Installing the Post
The best mailbox supports are stable but bend or fall away if a car hits them. The Federal Highway Administration recommends:
Maintenance
Mailboxes take a beating from the weather, so we recommend an annual mailbox checkup to avoid damage to your mail or difficulty identifying your address.
Tighten loose hinges on the door

Take care of rusty or loose parts

Replace missing or faded house numbers

Keep the path to your mailbox clear
---
Our Plows and your Mailbox!!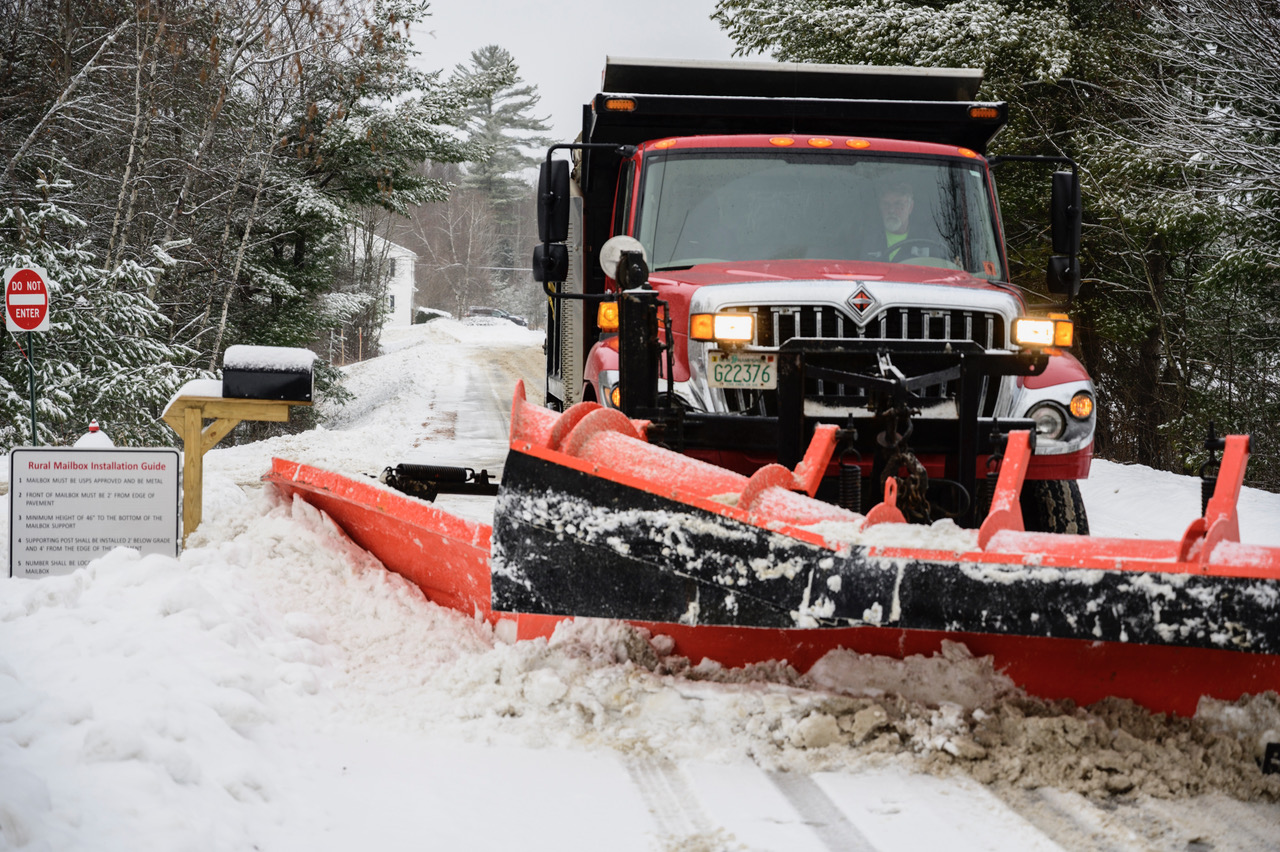 ---
Spring Road Restrictions
Each spring the Town of Belmont posts all Town roads to a maximum weight limit of 6 tons during the spring thaw per RSA 231:190-191. The timing of this ban depends each year on the spring conditions.

Local roads are especially vulnerable to damage in the spring due to the water freeze-thaw cycle. Imposing temporary weight limits can help to protect the roads during this time. Contractors, construction companies, parcel services, fuel services and solid waste haulers are asked to observe the posting by staying off soft road shoulders and reducing load weights. Special permission may be given for "practical difficulty or unnecessary hardship" depending upon weather conditions and time of day.



Prior approval is required

and a bond for the cost of restoring the road may also be required. The following vehicles are exempt: firefighting equipment, winter maintenance equipment that is owned, leased or rented by state or any political subdivision of the state, farm equipment. Violators may be charged with a "violation" under RSA 231:191 ,VI resulting in a fine of up to $1,000 along with restitution for damages and civil liability. Call the Public Works Department at 603-528-2677 with any questions.
---
Driveway Permits Required
Spring is the time that we remember any problems we have with our driveway; mud, bumps, drainage. Just a reminder that

any

work done on that portion of the driveway that meets the Town or State road right-of-way requires a Driveway Permit

before

the work commences. This includes just paving or re-paving.

Several homeowners have had their driveways accessing town roads re-paved or reconstructed only to learn after the work that it required a permit.

Fees are doubled

for any permits where the work has already been started. In addition, violations of the Regulations can result in a Violation or Misdemeanor charge.

The Town has requested assistance from paving companies asking for their cooperation in making sure that a valid permit exists before they pave. That obviously is not happening based on information we get from homeowners and the responsibility for the permit ultimately falls to the property owner.

Driveway Permit Applications can be obtained in the Land Use Office or on line. Processing applications may take 7-10 business days as the Public Works Department will view the site to make sure that no concerns related to adequate road drainage exist.

Please do not hesitate to contact the Land Use Office with any questions.
---
Highway Maintenance and Snow Plowing
Please do not place any private property within the Town's Right-of-Way. This includes planters, barrels, etc. The Town is not responsible for personal property that is within the Right-of-Way that is damaged.

Please maintain your road-side mailbox in good repair.

In accordance with Section III.A of the Belmont Ordinance Regulating Traffic, there shall be no overnight parking of vehicles along any roadway between November 15th and April 30th.

Snow Ordinance

---
Roadside Litter Collection
If any civic or private group or individual would like to assist in cleaning up the roadsides in Belmont, the Public Works Department now has trash bags from New Hampshire the Beautiful, Inc. that can be used for this purpose. Once filled, the Public Works Department will pick up these blue bags only. Bags are limited so we need to use them wisely, but encourage residents and others to assist in this process.
---
Waste Oil Recycling
The Public Works facility at 149 Hurricane Road is equipped with a Reznor 125,000 BTU waste oil heater. The heater is the primary heat source for the building. It burns waste motor oil that is donated at the garage during the hours listed below:

Used Motor Oil Recycling Hours - 7:30am - 3:30pm Monday - Thursday
---
Public Highways With Permanent Restrictions
The following list of public highways have the noted permanent restrictions.

In addition, a temporary posting occurs each spring which restricts all public highways to load limits not exceeding 6 tons. More information is posted at that time.
Concord Street

No Thru Trucking

Dutile Road

Durrell Mountain Road



35,000 lb weight limit

North Main Street

No Thru Trucking
Exit onto Laconia Road limited to Southbound traffic only
Jamestown Road
No Thru Trucking

South Road

Johnson Street

No Thru Trucking

No Thru Trucking
---